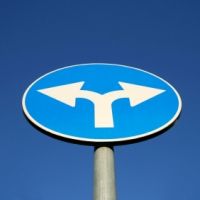 Rarely is the decision to change careers made without some anxiety and doubt to accompany it. It's such a life-altering decision that even those who are bursting with excitement to launch a new career sometimes feel overwhelmed by the obstacles and "what ifs" along the way.
"Changing careers can feel like you're standing in the vortex of a tornado. You're watching thousands of things swirl by, you can't see anything very clearly, and you're very hesitant to take a step in any particular direction. Too often, this uncertainty is all it takes to keep someone chained to a career that makes him or her miserable," says Katy Piotrowski, author of "The Career Coward's Guide to Changing Careers."
Piotrowski has observed hundreds of career changers and says that it's natural to run into roadblocks. "Remember, your goal is to find a career that offers what you want and need. It may take awhile to discover the right solution for you, and you may have to change your course a few times, but that's OK. If you persist in your pursuit for the right fit, new, more realistic options will soon become apparent."
Below are three common career-change roadblocks and Piotrowski's tips for approaching them:
Will changing careers significantly lower your earnings?
Before scrapping your interest in a particular career because of its lower income, Piotrowski suggests you do the following:


Do some research to find out how professionals in that field make it work for them. Do they have multiple jobs? Expand their work areas to generate more income? "For example, my neighbor is a potter. In addition to making and selling beautiful wares, heteaches

 

pottery-making lessons," says Piotrowski.

Assess what the likelihood may be that you could eventually earn enough income within a reasonable amount of time.

Consider cutting your expenses and banking the money saved before making the career change to see if you can survive on that level of pay.

Keep in mind that the skills you've earned in former careers will help you progress faster than someone with less experience and may allow you to earn better pay more quickly than the average worker in your new career field.

Don't have the right education or training?
"A lack of a certification or degree can be a maddening roadblock for career changers. Rather than throw away an excellent career possibility, consider these avenues to work around or through such barriers," Piotrowski says.


Begin at the bottom. Beginning in an entry-level position makes it easier to get started in your chosen field. Once you're in, you will be more likely to discover avenues to obtain the training you need, and may even be able to have your employer pay for it.

Aim for a position that requires less training. "For example, if you want to be a

 

physical therapist, but don't want to complete several years of college to get your degree, you could become a

 

physical therapy technician

 

instead. Frequently,

 

technicians

 

can be trained on the job or with just a year or two of formal instruction."

Torn between two or more careers?
When it comes to choosing between multiple career passions, there's no rule that says people must pick one or the other. Below are Piotrowski's suggestions for juggling multiple career-change opportunities:


Create a "muffin tin" career. "Typically, when you think of having a career, you imagine it to be a single profession that you immerse yourself in and develop over time. Another possibility is to select more than one career and to execute them simultaneously. So, instead of developing a single 'loaf' of a career, you might create several 'muffins,'" Piotrowski explains.

Become a serial careerist. If the "muffin tin" approach is too scattered for your tastes, consider committing to one career for a few years, then pursuing another, and perhaps another. There's no rule that says you have to stick with one specialty your entire life.